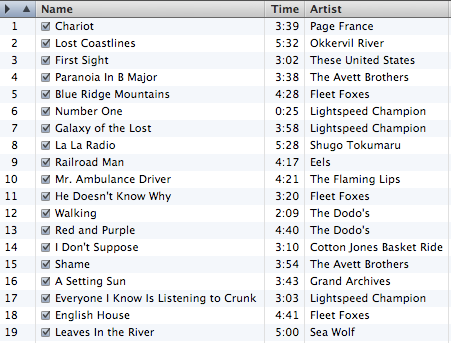 Inspired by Aaron's earlier
post about his Art Hop mix
, I decided to share a playlist that currently lives on my iPod devices. I originally developed this mix for my dad; it's an attempt to sample a range of current artists that he might like (based on his affinity for pedal steel guitars and
Commander Cody
). That's right. I'm 27 years old and the best I can do for my dad is hand him a burned CD with 'cool' music on it. And oh yeah, speaking of
PhotoAup
, did you know that you can follow him on Twitter at
@FKA_viD
? Yeah, really.
Anyway, this playlist has been a go to solution in many situations.
Driving from Philadelphia to Washington DC and bored with all your music? Alt-Country-Indie.
Morning coffee at a cabin in the Cascade Mountains with mixed company? Alt-Country-Indie.
5 hour cross country flight? Alt-Country-Indie. Well, you'll need that, a cocktail, a bag of pretzels and hopefully a seat-mate that is reading something interesting for you to nonchalantly glance at.
Here's the list (with fun links):
Page France - Chariot
Okkervil River - Lost Coastlines
These United States - First Sight
The Avett Brothers - Paranoia In B Major
Fleet Foxes - Blue Ridge Mountains
Lightspeed Champion - Number One
Lightspeed Champion - Galaxy of the Lost
Shugo Tokumaru - La La Radio
Eels - Railroad Man
The Flaming Lips - Mr. Ambulance Driver
Fleet Foxes - He Doesn't Know Why
The Dodo's - Walking
The Dodo's - Red and Purple
Cotton Jones - I Don't Suppose
The Avett Brothers - Shame
Grand Archives - A Setting Sun
Lightspeed Champion - Everyone I Know Is Listening to Crunk
Fleet Foxes - English House
Sea Wolf - Leaves In the River

I consciously repeated a few bands to add a little consistency to the mix. On a recent drive from Mt. Baker to Seattle,
Sharat
(the well established music taste maker) actually asked "who's this band playing?" each time The Avett Brothers came on. Don't tell anybody, but I think he secretly likes them.... shh.
What do you think? This mix awesome/lame? What is everyone out in the BlogMule-sphere listening to these days? Drop us a line and let us know!